The story is about Angela from Centerville, Ohio who came to Hollywood with dreams of becoming a movie star. She went from one studio to the next but the producers werenít interested. Amazingly her grandfather, who she brought along, attracted the attention of William DeMille and successfully became a star within weeks. Back in Centerville, the rest of Angelaís family heard the news of Grandpa and made their way to Hollywood to rescue him.


July 23rd, 1923 Preview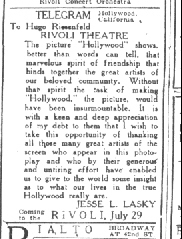 Some film critics say that Mike Todd invented the "cameo" performance by employing top stars in brief scenes for "Around The World In Eighty Days". Sorry, but the impressive thing about this lost picture was the tremendous lineup of stars who made "cameos" thirty years before Todd thought of it. Here they are Douglas Fairbanks, Mary Pickford, Will Rogers, and Charles Chaplin.
Also appearing was Fatty Arbuckle. In real life, Arbuckle was banned from the screen when accused in the death of a starlet. Although acquitted, his career was ruined. Frank Thompsonís book "Lost Films" described Arbuckleís appearance in "Hollywood", which was intended to communicate this sad period of his career. Thompson book was wrong the filmís release date of August 19, 1923. I discovered it was released earlier. In the New York Times, "Hollywood" opened on July 29th, 1923 at the Rivoli.
What a shame this film about 1923 Hollywood is lost. I love movies that are about making movies. Itís the one thing Hollywood invented entirely on itís own. Director James Cruze took 8 months before filming to coordinate this big lineup of stars.
Hereís a full list of cameos:

Fatty Arbuckle, Gertrude Astor, Mary Astor, Agnes Ayres, Baby Peggy, T. Roy Barnes, Noah Beery, William Boyd, Clarence Burton, Robert Cain, Charlie Chaplin, Edythe Chapman, Betty Compson,Ricardo Cortez, Viola Dana, Bebe Daniels, Daisy Dean, Cecil B. DeMille, William C. DeMille, Charles De Rochefort, Helen Dunbar, Snitz Edwards, Douglass Fairbanks, Geroge Fawcett, Julia Faye, Jimmy Finlayson, Alec B. Francis, Jack Gardner, Sid Grauman, Alfred E. Green, Alan hale, Lloyd Hamilton, Hope Hampton, William S. Hart, Gale Henry, Walter Heirs, Stuart Holmes, Sigrid Holmquist, Jack Holt, Leatrice Joy, Mayme Kelso, J. Warren Kerrigan, Theodore Kosloff, Lila Lee, Lillian Leighton, Jacqueline Logan, Jeanie Macpherson, Hank Mann, May McAvoy, Robert McKim, Thomas Meighan, Bull Montana, Owen Moore, Nita Naldi, Pola Negri, Anna Q. Nilsson, Charles Ogle, Guy Oliver, Kalla Pasha, Eileen Percy, Carmen Phillips, Mary Pickford, Zasu Pitts, Charles Reisner, Will Rogers, Ford Sterling, Anita Stewart, George Stewart, Gloria Swanson, Estelle Taylor, Ben Turpin, Bryant Washburn, Maude Wayne, Clare West, Larry Wheat, Louis Wilson.


LONDON AFTER MIDNIGHT Crime/Murder (Silent) M-G-M 1927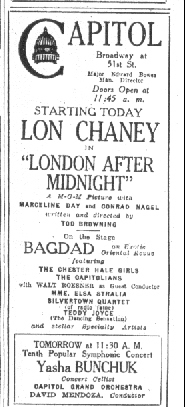 Opening Day for "London After Midnight" December 10th, 1927 This is on the AFI's most wanted lost film list, and itís one of the most famous missing films. Released on December 10th 1927 at the Capitol, "London After Midnight" starred Lon Chaney, the "man with a thousand faces". The story takes place in rural England, where inspector Edward Burke investigates the murder of Roger Balfour. Chaney played the duel role of the inspector and a vampire.
December 9th, 1927 Preview



It was directed by Tod Browning, who worked with Chaney on 9 other pictures. "London After Midnight" was the most profitable of their work together. The original negative was lost in a fire at M-G-Mís storage facility in 1966. Searches for a release print have been in vain. Thereís absolutely no print or negative footage that exists to date. Browning re-made this film for sound in 1935 with ďMark of the VampireĒ starring Bela Lugosi and Lionel Barrymore.

On Halloween night 2003, Turner Classic Movies pieced together "London after Midnight" using the original script and movie stills.
THE TERROR Horror (All Talking) Warner Brothers 1928
Opening Day for "The Terror" August 15th, 1928

On August 15th, 1928, Warner Brothers released itís second all talking picture "The Terror", starring May McAvoy and Edward Everett Horton. MaAvoy is somewhat remembered for her role in 1927's ďThe Jazz SingerĒ, although she had no talking scenes in it. The story was about The Terror, a criminal who stole and murdered.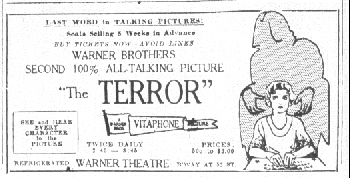 August 19th, 1928

Horton, the great comic actor who appeared in a ton of films in the 1930's, played a smart undercover detective trying to catch the Terror. It was quite a different role than youíd expect from his usual work. So, I think it would be very entertaining to see Hortonís performance.

The picture was directed by Roy Del Ruth, who began his career writing jokes for Mack Sennett. He made his way to Warner Brother directing crime dramas, then on to M-G-M specializing in their signature musicals. The soundtrack to this film exists.

STATE STREET SADIE Drama (Part Talking) Warner Brothers 1928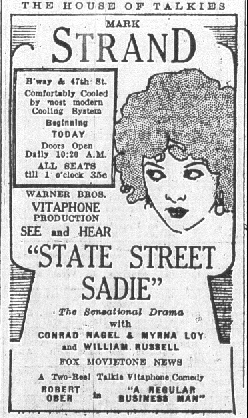 Opening day for "State Street Sadie" September 1st, 1928
"State Street Sadie" was a Warner Brothers crime drama starring Conrad Nagel and Myrna Loy. It opened on September 1st, 1928. This film disappeared along with many other part-talking films. The transition from silent to sound began with movies, like "State Street Sadie", that featured select sound sequences. Once films became 100% all talking, many of these part-talking features were forgotten. Many of Nagelís films are presumed lost. Loy, later known for her performances in the "Thin Man" films, played Isobel in what owners called "a fast moving crime picture, with some splendid comedy thrown in" (according to the 1929 motion picture almanac). On September 2nd, 1928 the following ad appeared.
ALIAS JIMMY VALENTINE Crime/Romance (Part Talking) M-G-M 1928
Opening Day for "Alias Jimmy Valentine" November 15th, 1928
Starring William Haines and Lionel Barrymore, "Alias Jimmy Valentine" was released November 15th, 1928 at the Astor. This was M-G-Mís first talking feature. Originally done as a silent movie, Irving Thalberg ordered that additional footage be made in sound.
William Haines played a safecracker who fell in love with a bankerís daughter. Haines was a box office star in the late 20's, but his work slowed down by the late 30's. His career ended after a fight with studio mogul Louis B. Mayer, who insisted Haines leave his secret lover Jimmie Shields, and publically marry a woman. Haines refused, and found success as an interior designer for the Bloomingdales.
It was directed by Jack Conway, an actor turned versatile director at M-G-M. Some highlights include "Libeled Lady" in 1936 with William Powell, and Jean Harlowís final picture "Saratoga" in 1937.
I contacted the Library of Congress about the status of this film. Zoran Sinobad, a Reference Librarian, told me there are no known copies of ďAlias Jimmy ValentineĒ. But, the UCLA Film & TV Archive holds the soundtrack (in the form of film synchronization discs), and the Library of Congress has an un-preserved copy of the film's trailer.
FOX MOVIETONE FOLLIES Musical/Comedy (All Talking with Color sequences) Fox 1929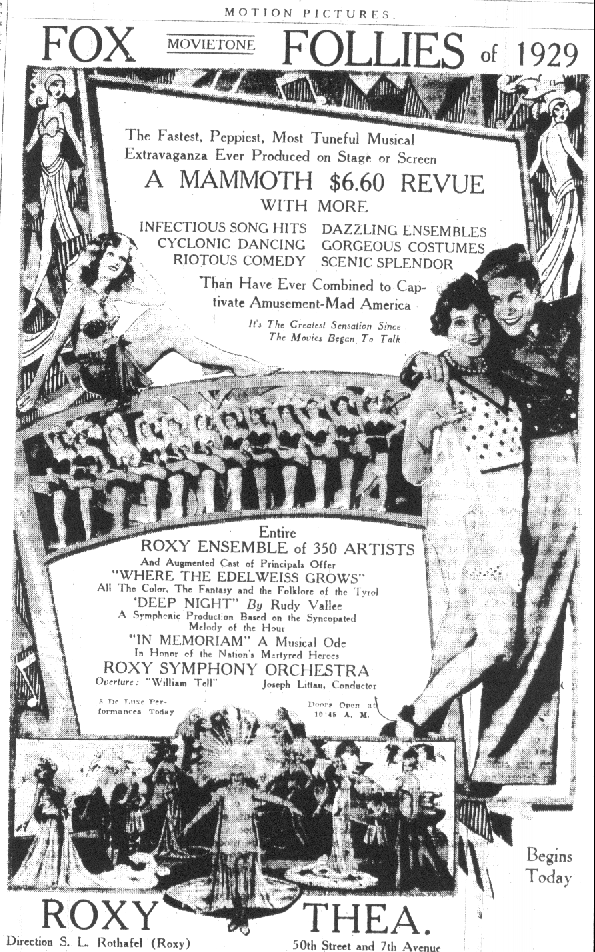 Opening Day for "Fox Movietone Follies of 1929" May 25th, 1929
This was one of the many extravagant musical varieties with the "all-talking, all-singing, all-dancing" format. All the big studios made them in this period. Warner Brothers put together "The Show of Shows" in 1929 with Myrna Loy, John Barrymore, and Richard Barthelmess. There was "Paramount on Parade" from 1930 with Maurice Chevalier, William Powell, and Gary Cooper with many others. M-G-M had itís "Hollywood Revue of 1929" with the likes of Conrad Nagel, Joan Crawford, John Gilbert, and Laurel and Hardy just to name a few. It was also nominated for best picture.
"Fox Movietone Follies of 1929" didnít have such legendary names, but it did feature very competent talent of the period such as Sue Carol, Lola Lane, and Jackie Cooper, who appeared as a guest in the picture. It was directed by David Butler, who would later direct a bunch of Doris Day musicals including "Itís a Great Feeling", and "Calamity Jane". It opened on May 25th 1929 at the Roxy. Since the film is lost, weíll never really know if it was "the fastest, peppiest, most tuneful musical extravaganza ever produced on stage or screen." But, I think it would sure be fun to find out.
May 26th, 1929 Film Flash article from the NY Times
THE ROUGE SONG Musical/Comedy (All Talking in Color) M-G-M 1930
Opening day for "The Rouge Song" January 28th, 1930

The "Holy Grail" of lost films. Finding this two-strip Technicolor M-G-M film has been the dream of most film historians, and itís on the AFIís most wanted lost film list. Itís certainly the #1 film Iíd like to see. "The Rouge Song" opened at the Astor on January 28th 1930.It featured Metropolitan Opera star Laurence Tibbett and Catherine Dale Owen, and was produced by Irving Thalberg. MGM borrowed Stan Laurel and Oliver Hardy from Hal Roach to give the film a comic touch. The picture was directed by Lionel Barrymore, but the Laurel and Hardy bits were directed by Hal Roach. A thirty second clip of L&H pitching a tent in a sand storm survives.

If youíre interested in Oliver Hardyís life and work, visit my website all about him at oliverhardy.com

This was M-G-M's first all-talking, all Technicolor project. Tibbett was nominated for the Academy Award as best actor. Although it played nearly 6 months at the Astor, the film did poorly everywhere else and was a commercial failure. Here's the January 26, 1930 ad:

Unfortunately, "The Rouge Song" was printed from two-color technicolor negatives which were destroyed in a fire. There is no known print existing but pieces of this picture have been found. The soundtrack on disc still exists. Thereís also a short Laurel and Hardy segment and a trailer that survived, but the complete film is considered lost. Audiences are raving! February 2nd, 1930
WHAT A WIDOW Romantic comedy (All Talking) United Artists 1930

Opening day for "What a Widow" October 3rd, 1930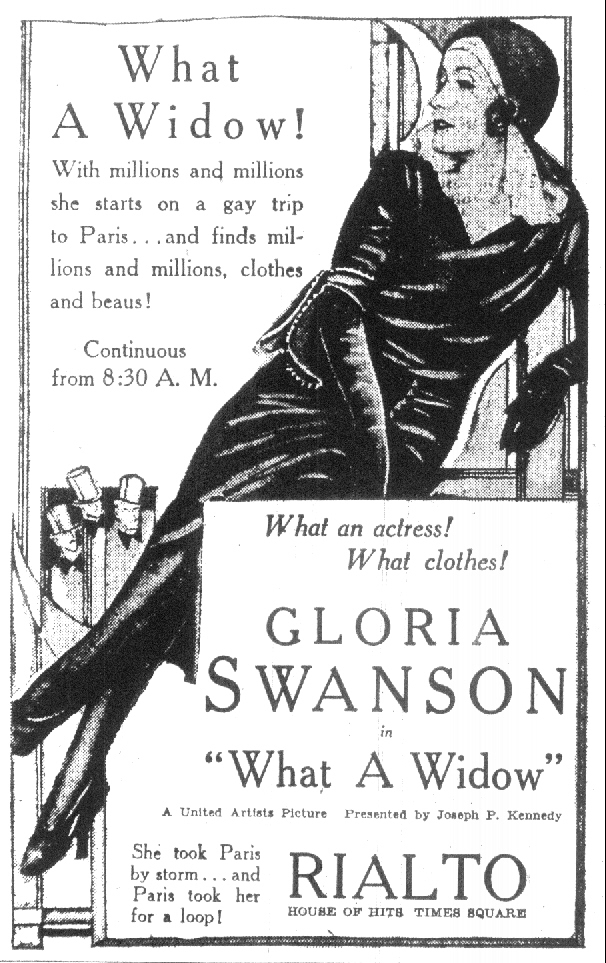 "What a Widow" was Gloria Swansonís second talkie. It opened on Friday October 3rd 1930 at the Rialto. In it, she played a wealthy widow traveling to Europe, later pursued by a lawyer, played by Owen Moore.
Swanson, by the mid 1920's, was one of the highest paid actresses in the silent film business. She successfully made it to sound, but only made four films in the 1930's. Then, she basically disappeared.
In 1950, she made a comeback and earned an Oscar nomination for her role in "Sunset Boulevard" with leading man William Holden. Ironically, a different William Holden appeared in "What a Widow", playing Mr. Lodge.
The film was directed by Allan Dwan, a film pioneer who directed some of Swansonís best silent movies, such as "Zaza" (1923), and "Stage Struck" (1925).
"Reflections and News of the Screen World" was a section of the New York Times announcing new upcoming pictures. I looked up Sunday October 12th 1930. A critic named Mordaunt Hall wrote that in "What a Widow", the "violent attempts to arouse laughter result more often than not in lost energy." Apparently the film was done in Mack Sennett slapstick style, and it would have been better if the acting was more restrained. Still, I think Swanson may have employed a special edginess to this role, which would make this film interesting to see today.
KISMET Costume/Drama (All Talking with Color sequences) Warner Brothers 1930
Opening day for "Kismet" October 30th, 1930
This version of "Kismet" starred Otis Skinner in his talkie debut as Hajj, the beggar of Bagdad who wanted to marry his daughter into royalty. Loretta Young, David Manners, Sidney Blackmer, and Ford Sterling also appeared. It was directed by John Francis Dillon who began his career with Keystone, which may explain Ford Sterlingís role in the film.
October 31st, 1930
While searching for the film ad, I ran across the October 26th edition of the New York Times which had a "Kismet" announcement, calling it a "Vidascope, the new wide film". This referred to the pictureís experimental 65mm wide screen format.
"Kismet" opened on Thursday October 30th, 1930 at the Hollywood Theatre on Broadway and 52nd street. To date, only the Vitaphone soundtrack survives.
HONOR OF THE FAMILY Drama (All Talking) First National 1931
Opening day for "Honor of the Family" October 15th, 1931
As you can see, there wasnít much to the ad on itís opening day, so I included this one for the second dayís performance - October 16th, 1931
I think the reason to see this lost film would be Warren William. I feel he was always best cast as the ruthless businessman type, but here he played a "swashbuckling gallant". The ad says "he was winged into Hollywood" which is literally true. With the success of talkies, Warner Bros was signing every stage performer with a voice that they could get. Williams was signed and within days, flown to Hollywood and put before the cameras. This was his first sound movie and it co-starred Bebe Daniels. Williams is not well remembered today, but in the early thirties was Warner Bros' one and only capable leading man. Until the likes of Cagney, Bogart and Grant were trained and groomed, Warren Williams was the go to leading man at WB and other studios. Fortunately some of his great ones, such as "Employee's Entrance" with Loretta Young survive and occasionaly pop up on TCM. His career floundered after 1935. "Honor of the Family" opened at the Strand on October 15th 1931. It was directed by Lloyd Bacon who began his career acting with Charlie Chaplin at Essanay.
In the "Reflections of the screen world" section from October 18th, 1931, I found a small piece on "Honor of the Family".
NY Times October 18th, 1931
So someday these films may be discovered. In fact, think of these movies as temporarily in hiding. Maybe one day we'll be able to experience these motion pictures like audiences of the period. But for now, we can look at the newspaper ads, and use a little imagination.
Written by Dave Harris (c) 2005 by Dave Harris